Shadows are very important aspects in 3D space. Shadows enhance spatial awareness of objects in 3D space and give better user experience for players. However, shadow rendering is GPU intensive process. For low-end mobile devices, it will slow down your application. "Fast Shadow Receiver" will make shadow rendering much faster by minimizing the area where shadows are drawn.

"Fast Shadow Receiver" provides a useful mesh search tree called "Mesh Tree" which is used to search for polygons which are receiving shadows. Mesh Tree is useful not only for shadows but also for various purpose such as light projection, bullet marks, AI, and so on.
Features
Unity 2017 or higher is required.
Unity Pro is not required.
It works with Blob Shadow Projector or shadow-map.
It can cast shadows on non-flat surface.
Terrain object is also supported (Only Blob Shadow Projector is available)
Really fast, even on low-end mobile devices!
Accompanied with fast (but no falloff) projector shadow shader.
It can handle multiple projectors or shadow casters.
Optimized for multi-core processors
How it works
Usually in a scene that has a large environment object like a terrain, shadow rendering will causes a performance problem. The large environment object will occupy most of pixels on the screen, rendering shadows on it will use a lot of GPU resource.
So, it is better for you to remove shadows from the large object, replace each shadow with a pair of "shadow receiver" and "blob shadow projector". "Shadow receiver" will generate a minimum mesh to receive a shadow based on associated projector and large environment object (See the image below).
Fast Shadow Receiver is designed to work with Blob Shadow Projector.
Additionally, Fast Shadow Receiver can also work with shadow-map. However, lighting will not be applied, which makes the shadows not realistic. Shadow-map will be rendered by being multiplied or blended with the scene.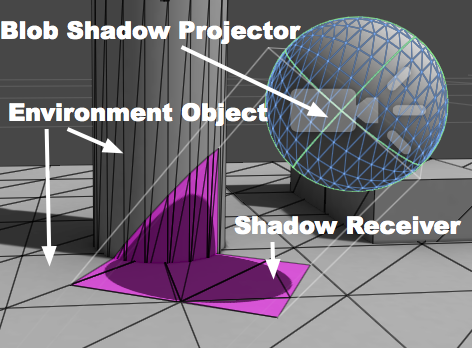 Fast Shadow Receiver is an asset for optimizing Projector performance. It is applicable not only to Blob Shadow Projector but also to Light Projector and Bullet Marks.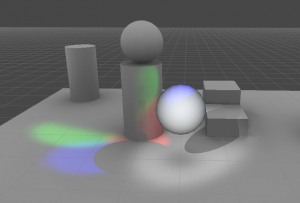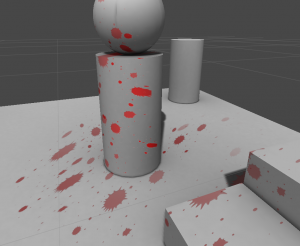 Documents
Links